"Who is that tall guy with the blonde hair?"
That was spoken at the first Dallas Mavericks preseason game of the 2002-2003 season. It wasn't from some unruly child. It wasn't from a senile Grandpa, who in his day, big men worked down low and chopped down trees in their spare time. It wasn't from my former girlfriend who accompanied me to many Maverick games starting that season. It wasn't from my Mom.
It was from me.
Yep. As an eighth grader who played basketball since fifth grade, I had no idea who Dirk Nowitzki was in 2002. I stood along side my Dad in our Platinum Level seats (thank you corporations before the economy collapsed!) just staring at this guy. Despite being a five-star nerd at the time (I still am, just hide it much better) I still had a general idea of what an NBA player looked like. After all, I watched
Space Jam
.
I wasn't a heathen.
Dirk stood out so much to me. A tall, lanky white dude with flowing blonde hair. There have certainly been goofier looking characters in the NBA before and after Dirk, but 99.9 percent of those guys wanted everyone to know how goofy they looked. Dirk seemed very much pleased with drifting through the layup lines, more concerned with getting his pregame shots up then mingling with the opposing team or smiling for cameras.
Being the nerd that I was, I had to immerse myself in everything. From Batman, Ninja Turtles to video games, one of my highest nerd qualities is to be immersed in whatever world I am reading or watching. To be swarmed by as much of it as possible. I loved basketball and I knew that if I really wanted to give it justice, I had to be fully and completely immersed. With season tickets and the ability to go to 41 basketball games a year, I wasn't going to waste this chance. I wasn't going to just sit there and be mildly entertained. I was going to know basketball inside and out, dammit.
Luckily, I had a beautiful team to watch. The 2002-2003 Dallas Mavericks were the Oklahoma City Thunder of their time – young, energetic, fast, quick and a humble and budding superstar ready to explode. There are few NBA writers that disliked watching that team (besides maybe the ones in Sacramento that had to miss so many deadlines when the Kings and Mavs battled in their epic overtime affairs.) Coached by Don Nelson, led by a dynamic scoring Big Three, I fell in love with basketball again. Basketball was just a means to an end before watching them. Something I did to get out of the house. Sure, I enjoyed it. Being four feet taller than anyone else on the court made it easy to have fun. But there wasn't any passion behind it. It was just part of the routine.
Watching Dirk, Steve Nash, and Michael Finely changed that. I realized how beautiful the game could be. Like a Michelangelo painting in motion. A totally blown out metaphor created for dramatic effect. Basketball was everything to me. When I was then treated to an epic playoff series consisting of two Game 7s and a heated Conference Finals against the Spurs, I was ready for more. I dug into stats and box scores like I did Pokemon trading cards. Hell, I even went into the offseason mode, trying to be an amateur GM. My first conclusion? The team needed a true, starting small-forward like LeBron James needs a better jumper. They started Walt Williams for goodness sakes! When the team picked up explosive forward Antwan Jamison from the Warriors, I was ecstatic. While Raef LaFrentz wasn't exactly the starting center of my dreams, a lineup of Nash, Finely, Jamison, Dirk and LaFrentz seemed just as formidable as any other starting five in the NBA.
Somewhere between that trade and the start of the season, Don Nelson officially lost his rocker. In a move that could have only been made after a few too many of his treasured Coors Lights, Nelson shipped away LaFrentz for Antoine Walker. Even in my simple basketball infancy, I was floored. Wait, doesn't Antoine Walker absolutely suck? Just to make sure I wasn't being influenced by superior basketball minds, I just checked a quick look at career stats. Hmmm. He can't shoot overall (41.4 percent career FG%) he can't shoot from deep (career 32.5 3PT%) and his much lauded appraise for being a "point forward"? 3.6 assists to 2.8 turnovers. BELCH. Even more, Jamison was moved to the bench. My dreams were shattered. The next two seasons were a blur. Some guy named Danny Fortson started at center. Mark Cuban showed off the
ugliest jerseys of all time
. We lost in the first round. Walker predictably ruined any wonderful team chemistry built from the 2003 playoff team. Jamison was wasted on the bench.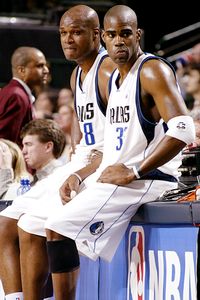 When I attended the first preseason game of the 2004-2005 season, I was excited to see the fresh faces after the Don Nelson mad scientist experiment ended. Nash was gone, but I wasn't too upset. I was upset, for sure, but I didn't think it'd ruin the team. Still naïve in my basketball mind, I knew controlling the paint won titles. I just watched Shaq's Lakers and Duncan's Spurs do it four times. Erick Dampier was fresh off his double-double year with Golden State but what stole the show was another odd looking dude – Jason Terry.
That misshapen head. The high socks and headband. The arm bands. Terry looked like he got into a fight with Dick's Sporting Goods and lost. But what really surprised me was the guy couldn't miss. From anywhere. I don't remember the final tally in that meaningless preseason game but in the stands, it felt like Terry was 20-for-25 overall, 15-of-15 from three. I was mesmerized by the potential of a Jason Terry/Dirk Nowitzki pick and pop.
I won't continue to recount the years because they were too exciting and painful. Over the next few seasons, this was when my fandom grew to unhealthy levels. I threw fits if school or homework or something came on Mavericks game night. I almost strangled my farther in his sleep when he announced no more season tickets before the 2005-2006 season. Call Dirk soft? I would find out where you lived and put a pillow over your face whenever you decided to take a nap. I was ruthless and crazed. My former girlfriend and current best friend deserves a Medal of Honor or at least a Purple Heat. I can't tell you how many dinners were ruined when "Celtics 115, Mavericks 105" flashed across the ticker. Or how many supposed romantic evenings were interrupted by a visit to Arco Arena in Sacramento. "Sweetie! The Mavericks are three games back of the Spurs for the division title! Plus, they need to stay ahead of the Kings for home court in the first round. PLUS IT'S THE FREAKING KINGS?! WHY DON'T YOU UNDERSTAND?!" I might have ruined her entire high school years, but I can't imagine anyone else to calm me down and bring me back to reality after a backbreaking Doug Christie three. Plus, she got to gawk at Devin Harris for two years, so she should be thanking me.
What I'm trying to say is, the Mavericks are my life. They are like a little brother, always eager to overprotect him. "HEY, DIRK CAN PLAY DEFENSE, HE ISN'T HORRIBLE. Or, "GOLDEN STATE WAS JUST A BAD MATCHUP. IF THE CLIPPERS SNUCK IN, WE'D BE HOLDING THE TROPHY." Mainly, this revolved around Dirk. He was the most un-unlikeable player in the NBA. A tireless work ethic matched only by a desire to remain away from the tabloids and endorsements. When Dirk finally had to bring his public life into the headlines in 2009 with Crystal Taylor, the look of his face and the sound of his voice was like a downtrodden, beaten man. He acted like he committed the ultimate sin, when actuality, he just made a mistake. He trusted the wrong person in love. Something very human. But Dirk didn't want us to know that. He wants use to believe he's an unstoppable killing machine, incapable of feelings or emotions. A silent guardian and a watchful protector (see what I did there?) Of course, Dirk responded by dropping over 35 points plus against the Nuggets in the semi-finals. The Mavericks lost that series because Antoine Freaking Wright was their starting two guard. Seriously. The guy who just said
his Mommy is the reason he's out of the league right now
. Even when Dirk got support from freshly brought in forward Caron Butler in San Antonio of 2010, it still wasn't enough. Dirk had a sidekick perform well and they still were bounced in the first round. I just assumed it wasn't going to happen.
Of course, 2011 couldn't have any less hype around it. Another first round exit and the front office's answer was to bring in a center who hadn't played a full season in three years. As the season progressed, it became apparent that Tyson Chandler was everything Erick Dampier wasn't. Long, quick, athletic, catching and finishing ability. I won't try to lie to you – I was one of Dampier's biggest backers. He was a solid rebounder, decent old-school post defender and could get your Grandma open with a screen. Maybe I was blinded by the absolute mediocrity of Maverick centers over the years. Chandler displayed something else unmatched from the center position in my time watching the Mavs: he showed a pulse. After a nasty alley-oop throw down from Jason Kidd, he'd ram the padded support of the NBA rim like he was trying to treat his shoulder like
GusFrerotte treats his head
. He barked at opposing teams with each block or masterful hedge on a pick and roll. Hell, the dude even made his free throws, shooting over 70 percent and flirting with 80 percent for the first half of the season. He was unlike anything I had ever seen in a Mavericks uniform. Sure, he sometimes looked overmatched against bulky low post threats, but he was Dallas' 2008 Kevin Garnett – a true defensive leader getting his teammates to buy into what he was saying (or screaming).
But the 2011 playoffs ultimately can be told of the narrative of the two players that were expected to carry the franchise to fame and fortune in 2005 – Jason Terry and of course, Dirk. It's not coincidence that a 2011 title correlates with Terry's highest PER of the post season and Dirk's legendary run. These are the two pillars to the Mavericks holy temple. The foundation of the entire Mavericks offense boils down to how these two players react in their two man game, picking, popping and shooting.
Even then, I wasn't ready for this spring/early summer. I had my doubts and my worries but this Maverick team destroyed them all in a blaze of precise ball movement and expertly timed rotations. While I don't normally believe in preconceived outcomes, there had to be some celestial basketball being deciding to allow Jason Terry's desperation three to clinch Game 5 of the Finals. It made me realize something after that game. No matter how much we try to define basketball with advanced numbers and metrics, the outcome of the game is pretty much decided on who can make more shots. It's a simple, caveman like approach to the game, but the Mavericks in spite of being athletically behind and slower than the competition, made more shots.
I will always be able to tell anyone who asks me where I was on June 12th, 2011. The image of Dirk Nowitzki rushing to the locker room as the final ticks sounded in Game 6 not only forced me to breakdown like I haven't while watching sports before, but revealed something we already knew. Despite the mission being over, his conquest finally achieved, Dirk refused to let anyone see his emotions. He still wants to be the silent killer and he just finished off his biggest prize, punishing the Heat with a remarkable double clutch jumper in front of the Heat's bench with under two minutes to go. That silent first pump. That tongue. It is the most we ever see from Dirk emotionally, midgame. But he couldn't let anyone see. How dare he show himself to be some simple mere human? Dirk has always created the illusion that he was a mythical warrior. The illusion might have been broken slightly back in 2009 and again on that June night in 2011, but it didn't matter. I shared tears with Nowitzki that night. Both our lives seemed validated after countless failures in the past, after pouring too much time into a simple sport where you throw a ball into a hoop.
That tall guy with the blonde hair. A champion, finally.
Be our friend! Join The Rice of Passage Facebook page!
Want to tell me how dumb I am? Follow my dumb thoughts? Then check me out on Twitter