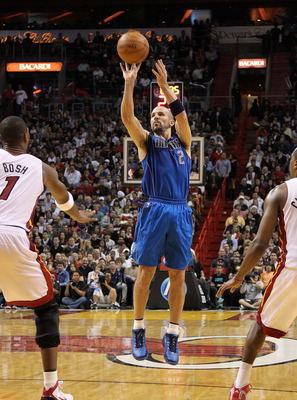 When the Mavericks traded away Devin Harris to bring in Jason Kidd there were essentially two sides: the side that couldn't believe they packed up and shipped away their future and the side that was finally grateful for having a real, legitimate point guard since Steve Nash left years before. And it was heated both ways. There wasn't a lot of middle ground and it was for good reason -- the Mavericks seemed to be spiraling in mediocrity after failing to capitalize on the two greatest teams of the franchise in 2006 and 2007. I for one, actually found myself teetering in that middle ground. On one hand I was thrilled, the lack of an efficient point guard in Dallas killed them in the playoffs when half-court execution is put at a premium. (Note: See, I even said they
needed to bring in another point guard and move Terry to the bench
after being bounced in 2005. Now you can all laugh at my hilarious and embarrassing Xanga page and my writing skills back them) On the other, I was worried that Devin Harris would become an All-Star in New Jersey, leading them to many victories for years to come.
Even years after the trade, in 2011, there doesn't seem to be a consensus on what was better. Kidd looked brutal against the Hornets in the 2008 playoffs. Harris looked fantastic for the 2008-2009 season. Then Kidd looked great against the Spurs in the playoffs in 2009 and Harris broke down in the 2009-2010 season. Then Kidd looked horrible again in the 2010 playoffs. It's almost a toss up as Harris tries to regain his All-Star form.
But regardless of what you think of the trade, credit had to be given when Kidd, somehow, shot 42 percent from three last season. The biggest knock on Jason Kidd (or Ason Kidd as he's been pegged before) was he couldn't shoot. And they were right. Kidd is a 40 percent overall shooter in his career and his three point percentage has always hovered in the low 30s during his time in Phoenix and New Jersey. His shooting renaissance in Dallas should be chiseled into whatever statue gets made of Jason Kidd after he retires -- it's that noteworthy. But before a monument to Kidd should be built, he needs to stop doing the very thing that plagued him throughout his entire career until last year -- shooting horribly.
If you haven't noticed, Kidd is having an unbelievably bad shooting year -- 34.2 percent to be exact. That makes him the sixth worst shooting point guard in the NBA this year. Care to know who is above him? Grab a tissue.
Marcus Banks (a whopping 0 percent and three games played)
Acie Law (15.8 percent in only 11 played games)
Sherron Collins (25 percent, 15 games played, 50 pounds overweight)
Jeremy Lin (31.6 percent, 17 games played)
Johnny Flynn (33 percent, 20 games played, one awesome name)
Yep, I know what you're thinking. Even Derek Fisher is shooting better than Jason Kidd. And you have to go five more spots past Kidd to find the next player that has played in at least 40 games (C.J. Watson with a 36.9 percentage and 45 games played.) If you had hope that maybe Kidd is respectable from three and his knuckleball layups aren't falling, prepare to grab another tissue as he's only hitting 33 percent from downtown.
I wish I could tell you some magical statistic that is the fault of all this. I wish some advanced stat genie could appear and tell me that if Kidd improves this, the results will come. But there isn't. The only way Jason Kidd can recapture his shooting stroke is to, well, find it. I'm hoping Kidd didn't have to sacrifice his soul for just one great shooting season from three because if there's a team that could use it, it's Dallas. Kidd needs to shoot better, that's all there is to it. With Dirk Nowitzki getting healthier by the day, hopefully the spacing and looks will get better. The problem is Kidd hasn't been shooting the ball well at any point this season, even with a healthy Dirk drawing double teams.
All the shooting woes have led to Kidd's 7.9 points per game average, which would be the lowest of his entire career. Two more depressing notes before I leave you to gauge your eyes out: Kidd isn't even averaging one full shot attempt at the rim per game (he's at 0.7). I didn't even know that was humanly possible for a player that averages over 30 minutes a game. Here's the other -- Kidd is averaging more assists than points (8.3 to 7.9). In the history of the NBA,
only two players have done that.
Mark Jackson in the 1996-1997 season and Johnny Moore in the 1981-82 season. As the article I linked to notes, Rajon Rondo is on pace to join that club as well (and he's still on that pace right now). The big difference? Rondo is shooting 52 percent from the floor. While I think I would still trust Jason Kidd to hit a big three in a big game over Rondo, that confidence is slipping. For the Mavericks to have any continued success this season, Kidd has to regain his shooting touch and be a threat on the weak side of Dirk double teams. There really isn't any other way around it.
Be our friend! Join The Rice of Passage Facebook page!
Want to tell me how dumb I am? Follow my dumb thoughts? Then check me out on Twitter