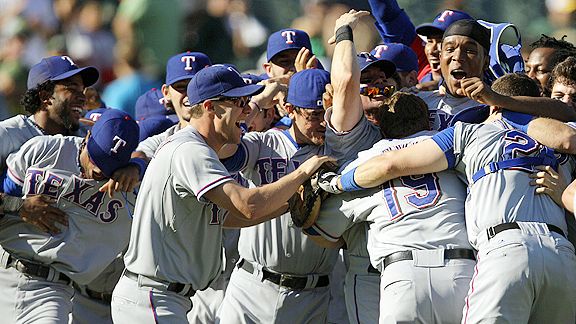 Now that i've let some time pass and reached "acceptance" I feel like I can finally recount all the wonderful things the 2010 Texas Rangers did to me over this past summer (Note: Shut up, you pervs.)
1.)
Rekindle my love for Josh Hamilton:
Before the 2009 season, I bought my first Ranger t-shirt jersey. It was a no-brainer - Josh Hamilton. The magical 2008 season, the southern drawl that made him sound more Texan than North Carolina. What more could I ask for? How about a repeat performance. Granted he was injured for most of the year, but 2009 was to my love of Josh Hamilton as
Batman and Robin
was to my love of Batman. So needless to say, I was ready to buy another t-shirt. 2010 proved to me that Josh is more than a one-hit wonder and is still the most talented positional player in all of baseball. Now if only he could play 150 games a year...
2.)
Discover some talented writers in the area:
As sports-nutzy as I am, my sports consumption usually consisted of the
Star-Telegram
and ESPN. Shocking I know, but I usually watched most of the games so I didn't need to dig much deeper. I knew what happened. As I started getting into the NBA blog scene over the last three to four years, I realized there are incredible writers all over. So without further ado, a many thanks to
Adam J. Morris
,
Joey Matches
and Richard Durrett and the multiple, talented Ranger writers over at ESPNDallas.com.
3.)
Realize how nice it is to enjoy a beer at the Ballpark:
Even if it does cost $25.99 before taxes
4.)
Let me witness a sports celebration at its finest
: Watching Neftali Feliz break his nasty slider over the outside part of the plate. Alex Rodriguez frozen as if Kate Hudson just told him she has herpes. The Joy, the noise, the fireworks. Watching the end of Game 6 of the ALCS will go down as the greatest sports moment I've ever been apart of. I can't really imagine sports getting better than that. Except for, you know, actually winning it all. Baby steps.
5.)
Make me look cool for always being a Ranger fan:
Can't tell you enough how awesome it is to be following a crappy team in a sport that is losing fans across the 18-25 demographic to then finally be the story in the area. I had friends text me what some stats meant, if the Giants were good or not and who some of our bullpen and bench guys were.
6.)
Get congratulatory text messages:
What am I, a player? Jokes aside, it was very, very cool to receive texts and phone calls from close friends telling me how happy they were for me.
7.)
Get an actual fan base?
If you're reading this blog, chances are you went to high school with me or are one of my good friends. As much as I try to get this some more exposure (Note: I don't) it's pretty awesome to finally have some readers who aren't from Bedford, Texas. Of course, many of them are readers of the Ranger sites I dived into this summer and I consider them friends now as well.
8.)
Make me appreciate (even like) country music:
If 2004 Josh read this right now, he'd find me, punch me in the nuts and tell me to downtown Dallas and attend a hipster/indie/hardcore show ASAP. I can't help it. The Rangers played the song "I Like Texas" by Pat Green after every win and it's so damn catchy. I also attended Billy Bob's in Fort-Worth, the huge country music bar in North Texas. And guess what? It was the best night of my summer, country dancing the night away with the patrons. I don't know what's become of me. But I do know that life is too short to be stuck up about music or having fun. The youthful Rangers team taught me to hang loose, and have some fun in life.
9.)
Inspire me to learn sabermetrics:
WAR, UZR, wOBA, OPS+. Those could of been Franklin Roosevelt
New Deal programs for all I knew. But I realize that the eye test and sabermetrics. Think Michael Young's defensive range is similar to Mo Vaughn's after he had a sleepover in a bakery? Check the UZR, you're probably right. Think Justin Smoak is actually hitting the ball well, he's just getting some bad luck and good plays made in the field? Check his line drive percentage and his batting average on balls put in play. You're probably right. Sabermetrics and the eye test can combine into a beautiful thing.
10.)
Make me proud to be a Texan again:
There's something about the
Texas
Rangers. They aren't the Dallas Rangers or the Arlington Rangers. They're the TEXAS Rangers. I don't know what it is about that, but it inspires a great sense of community and local pride. I compare it to the New England Patriots. I don't think the loyalty and the community for the fan base would be there if they were the Boston Patriots.
***
Be our friend! Join The Rice of Passage Facebook page!
Want to tell me how dumb I am? Follow my dumb thoughts? Then check me out on Twitter